Seeing His Goodness in the Highs and Lows
"Rejoice always, pray continually, give thanks in all circumstances; for this is God's will for you in Christ Jesus" (1 Thessalonians 5:16-28).
Rejoicing always and giving thanks in all circumstances is a pretty tall order. In fact, without a God-centered, out of this world perspective, it will not happen. But Paul tells us in all things, this is the will of God! How many times in our prayers do we beg God to show us His will, and yet right here is His answer - to give thanks!
Our summer camp season has come to an end, and it was chalk full! We look back on this summer of ministry and see the highs and lows, good weeks and hard weeks, it's evident as to why we can give thanks. It was all God! The children who God brought all needed one foundational item, and it was the gospel. God brought them and their brokenness to a place where we opened the Word of God and had the privilege of speaking truth into their lives. We did so, trusting a trustworthy God, knowing His word promised us that it would not return void! In the middle of the craziness, His word will produce a harvest! We often can't see it, and often times it doesn't feel good or make sense, but we give thanks.
In the middle of the night, when the camper needs the restroom. In the middle of the sports field, when the heads bump into each other. When the counselor speaks to the nurse, saying their camper is running a fever. When brokenness and the reality of home life is shared, and it's overwhelming. Dirty pants, wet sleeping bags, bad attitudes. Tiredness beyond words, news from home saying loved ones have passed. And yet we are told to give thanks, for this is the will of God.
We do indeed give thanks, for the faith that brought us to this point, will also bring us to the reality of who God truly is. He is a good God, who brings hope and help into the brokenness of our lives. He is the one who uses all things to reveal all things, and that includes all the hard things our staff endured this summer. The hard leads us to the good, which is God. The hard leads us to the end of ourselves, which is where God begins. It leads us to being able to share stories, remembering what God did, as well as knowing that He is not done yet. Giving thanks in these circumstances becomes worship, when our hearts embrace the reality that God is truly good, all the time. That the God of the valley is the God of the mountaintop, and the God of the daytime is still God in the night. He truly works all things together, good things and hard things, and invites us to be a part of it!
The outcome? Something beautiful! Lives changed for eternity! Healing to the broken, eyes to see hope where there had been nothing but hopelessness, ears to hear, and lips to speak truth, many for the first time! Children who have a heavenly Father, in spite of earthly parents who are not there. Joy where there was sorrow. Priceless stories of how God carried us through the impossible! There is God, and that is enough. Praise God; thank you Father! You are truly a good God!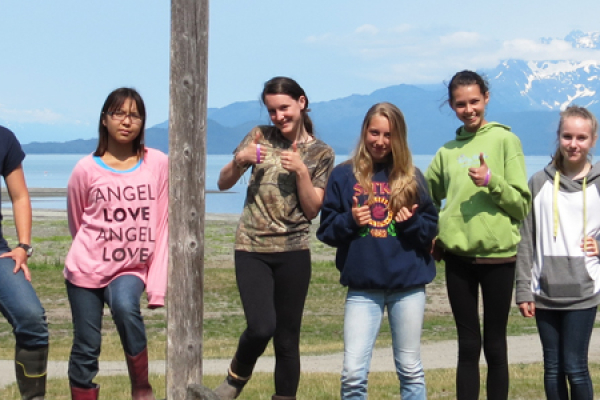 Each summer in Alaska, counselors are needed to disciple the campers from the end of May to the second week of August.